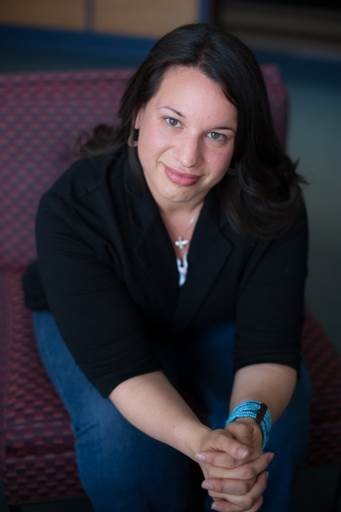 Join Veronica Rueckert as she features interviews with University of Wisconsin-Madison experts on topics relevant in today's world.
Veronica Rueckert, former host and producer of Wisconsin Public Radio's "Central Time," is the University of Wisconsin-Madison's National Media Relations Specialist.  Before that, she hosted the state-wide call in program, "The Veronica Rueckert Show" and was a producer on WPR's Peabody Award-winning program "To the Best of Our Knowledge," distributed nationally by Public Radio International.
Veronica is also a writer whose work has been published in Wisconsin Trails Magazine, Wisconsin State Journal and excerpted in Jon Winokur's The Big Book of Irony. Her essays have run on NPR's nationally-syndicated show "Day to Day" and on "To the Best of Our Knowledge." She has a background coaching academics, corporate communicators, and other professionals for events like keynotes and TEDx talks. She has a special interest in working with women to maximize the power and presence of their voices.
For more information, use of the video clips or for media requests, contact Veronica at rueckert@wisc.edu.
Managing Personal Finances During a Pandemic
In this edition, Veronica interviews J. Michael Collins, a professor and director of the Center for Financial Security in the School of Human Ecology at UW–Madison, about how COVID-19 is affecting household finances.
What Pet Owners Should Know
Veronica Rueckert talks with Professor Tony Goldberg of the UW-Madison School of Veterinary Medicine about what precautions we can take with our dogs and cats during the COVID-19 pandemic.
Coping with the "Quarantine Blues"
Veronica talks with a Postdoctoral Scholar in the UW-Madison Department of Psychology, Karen Smith, about ways to cope with the stress of spending so much time at home during the COVID-19 crisis.
The Risks of Reopening
Veronica talks with risk analyst Vicki Bier, a professor at the UW-Madison College of Engineering, about the decision-making process that goes into how to reopen a community after quarantine.
How we Communicate about Risk in a Pandemic
Science communication expert Dominique Brossard, a professor in the Life Sciences Communication department at UW–Madison, discusses how uncertainty and trust affect our perception of risk during the COVID-19 pandemic and how the media can responsibly discuss the risks we face as individuals and communities.
Mental Health Challenges in the Black Community
Dr. Alvin Thomas, Assistant Professor in Human Development and Family Studies in the UW-Madison School of Human Ecology, talks about why we need to prepare for a coming mental health crisis for Black men and boys. Thomas is also director of the Ethnic Youth and Resilience Lab at UW-Madison.
How COVID-19 is affecting the meat supply chain
UW-Madison Assistant Professor of Agricultural and Applied Economics Andrew Stevens explains why there are disruptions facing the meat supply chain caused by COVID-19. The virus has sickened workers and closed meatpacking plants, which has led to some shortages, price increases and other problems for livestock farmers and companies.
Tips on How to Stay Safe as Wisconsin Reopens
Dr. Nasia Safdar, Medical Director of Infection Control and Prevention at University of Wisconsin-Madison gives her tips about how people can try to stay safe as restaurants, hair salons and other businesses reopen.
How Wearing a Mask Helps Prevent the Spread of COVID-19
UW–Madison Associate Professor of Population Health Sciences Ajay Sethi shares the best practices for mask use during the COVID-19 pandemic. Wearing a cloth mask anytime you are indoors or will be within six feet of others is crucial for keeping both you and your community healthy by blocking the transmission of virus-containing droplets.
How to Cope with the Sense of Loss During the Pandemic
Richard "Richie" Davidson, founder and director of the Center for Healthy Minds at UW-Madison, joins us to talk about how to cope with the loss that comes with living during a global pandemic. Richie is best known for his groundbreaking work studying emotion and the brain.
Mail-in Voting During the Pandemic
Political scientist Barry Burden joins us to discuss mail-in voting during the pandemic. States vary in how they treat mail-in votes, but they all have ways to ensure each vote is secure. More mail-in votes means different staffing for the election, Burden says, and most likely an extended processing time. That means we may need to be patient for final election results.
How will Schools be able to Resume Classes this Fall?
Malia Jones, Associate Scientist at the Applied Population Laboratory in the College of Agricultural and Life Sciences at the University of Wisconsin-Madison, answers questions confronting schools about re-opening in the fall as the COVID-19 pandemic lingers.
What We've Learned About Recovering from COVID-19
Emergency medicine physician and UW Health chief quality officer Jeff Pothof shares how doctors have uncovered some promising drugs for treating severe cases of COVID-19 and learned how to protect patients' breathing. While most people with the disease recover in a couple weeks, some experience lingering health effects that are still being researched.
What Effects has COVID-19 had on Real Estate?
Summer is peak season for buying and selling homes, but it's hard to predict the movement of a market in the midst of a global pandemic. In this Badger Talks video, expert Mark Eppli takes stock of the real estate market. Eppli is Director of the James A. Graaskamp Center for Real Estate at the Wisconsin School of Business. Some realtors have been able to bring the real estate market online for potential buyers and sellers, Eppli says. The move is crucial in for market that relies heavily in in-person events like open houses and home showings. Perhaps most surprising of all, Eppli says lenders might be more skittish, but so far, the residential real estate market is in pretty good shape. It's hard to predict what will happen next, though.
How to Talk to One Another While Wearing Masks
Maryellen MacDonald, a professor of psychology and an expert in how we produce and understand language, joins us to talk about how adapt to speaking in a mask.
How Can We Improve Our Indoor Air Quality?
With the cooler temperatures upon us in Wisconsin, outdoor life is moving back inside. UW-Madison Professor of Chemistry Timothy Bertram joins us to tell us if we can improve the air quality in our indoor spaces to help mitigate the spread of COVID-19.
How Can We Celebrate Halloween Safely in a Pandemic?
Halloween brings many fun traditions – trick-or-treating, dressing up in costumes and parties. But how can we have fun, but celebrate safely, in the midst of the COVID-19 pandemic? UW-Madison Epidemiologist Malia Jones tells us how in this episode of Badger Talks. To print out a yard sign to alert trick-or-treaters your house is a "No Contact Trick-or-Treat safe house", click here: https://bit.ly/2T7Jujr
Student Involvement in Voting Efforts During the Pandemic?
UW-Madison Professor of Political Science Kathy Cramer joins us to talk about how this election season is unfolding during a public health crisis, and how students are still able to get involved in the voting efforts.
How Working Women are Adversely affected by the Pandemic
Pam Kreeger, an associate professor of biomedical engineering at the University of Wisconsin-Madison, recently published with colleagues "Ten simple rules for women principal investigators during a pandemic," citing the additional home and child care burdens female academics have taken on due to COVID-19. Kreeger shares suggestions to help women principal investigators during a pandemic, advice that translates to all women juggling duties at home with responsibilities in the workplace. You can see the list of suggestions here: https://go.wisc.edu/regainingbalance Please remember local public health guidance is ever-changing. For the latest information visit: https://covidresponse.wisc.edu/
COVID-19 Vaccines
Vaccines are beginning to be approved to help fight against COVID-19, so what happens now? James Conway, an expert on international immunization programs and global health, joins us to help answer some of the big vaccine questions. He's the Medical Director of Health Immunization Programs at UW Health.
Reaching Out For Help with Depression
The COVID-19 pandemic has been tough for people of all ages, especially for those living with depression. The darkness of winter, coupled with stressful news cycles, can add to the burden. Dr. Shanda Wells, a clinical psychologist at UW Health, shares tips for how to deal with feelings of hopelessness and knowing how to recognize when you should reach out to a professional for help.
Fitted Masks
Veronica Rueckert talks with Engineering Professor, Scott Sanders, about different ways we might try to get a well fitted mask.
COVID-19 Vaccine Etiquette
With more and more people getting vaccines each day, there's hope on the horizon that the worst of the pandemic will soon be behind us. It also means a lot more of us are having conversations about vaccines and some of these conversations can be tricky. University Health Services Resident Physician Devlin Cole helps answer some of the questions people may have when it comes to vaccine etiquette.